Summary: Job options for those contemplating a career in the airline industry.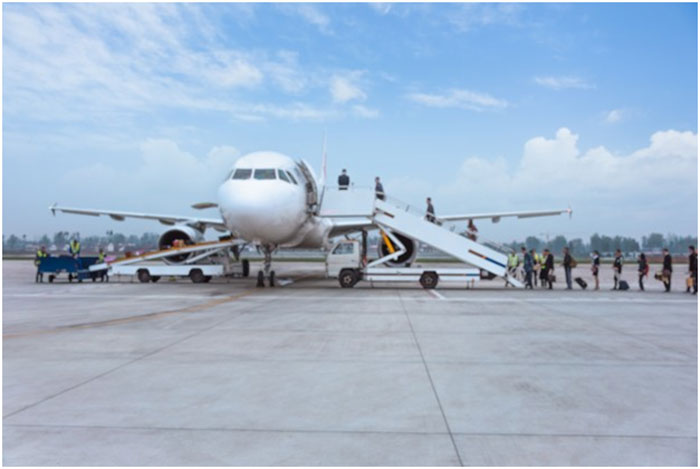 Have you ever considered a career in the airline industry? If you've even entertained the idea in the slightest, here are some facts about the industry that can help you with your decision.
Career Overview
Most service jobs at airports and most positions with airlines are union jobs. This means that the terms of the job are negotiated and protected by a labor union. Wages increase as a person's abilities and skills increase. Airlines usually offer benefits to all employees. These may include health and life insurance, paid vacation, and sick days. Most employees are allowed to join the airline's retirement plan.
Employees can qualify for other jobs based on their education, experience, and seniority. One benefit for all airline employees is standby traveling status. That means that an employee and their immediate family can travel anywhere in the world for free when empty seats are available.
Pilots
Many pilots begin their careers as flight engineers. Then they become copilots, and finally pilots.
Pilots must learn everything about the working system of an aircraft. Besides flying, they are responsible for take-offs and landings. Both can be difficult in certain weather conditions. Pilots perform safety checks and maintain the safety standards set by the Federal Aviation Administration (FAA).
Non-flying duties include supervising the boarding and deplaning of passengers, re-fueling, keeping flight records, scheduling flights, and coordinating all crew members.
Job opportunities for pilots, copilots, and flight engineers are very competitive. Many airlines prefer to hire pilots with college degrees and military flight experience. Pilots must be in good health. They must also have a pilot's license, which is earned by passing written, physical, and flight exams given by the FAA. In addition, a pilot must have several years of experience working with the aircraft that they will fly.
Pilots can earn high salaries. Airline pilots or captains earn $76,000 to $200,000 a year. Copilots earn $50,000 to $76,000 a year, and flight engineers earn $40,000 to $55,000 a year.
In addition to working for airlines, pilots work for corporations. They also work in specialized areas such as crop dusting, seed planting, fire fighting, law enforcement, traffic monitoring, and rescue and hospital evacuation.
One way to become a pilot is to join a college program that offers the opportunity to obtain a private pilot's license. Another way is to join one of the armed forces, such as the Air Force. You have to choose the path that fits your skills and abilities.  
Other Careers in the Airline Industry
Flight Attendants
Airline flight attendants provide comfort and safety to passengers. They are trained to follow strict rules to ensure the safety of the crew and passengers during the flight or during any emergency situation. Attendants may also serve food and beverages. To be a flight attendant, some college experience is preferred. Specialized schooling for three to six months is provided by the airline. The salary range is between $13,000 and $40,000 a year.
Airline Ticket Agents
Airline ticket agents get people and their luggage to the right place, at the right time, for flights. They sell tickets, give flight information, and check luggage onto flights.
Airline ticket agents receive on-the-job training. However, a high school diploma is required, and some college experience may be preferred. Good clerical and people skills are also needed. The salary range is from $20,000 to $37,000 a year.
Airline Dispatchers
Airline dispatchers schedule flights for an airline. They make certain that all FAA rules are followed. Dispatchers are in constant contact with pilots about weather conditions, landings, take-offs, schedules, flight plans, and maintenance of the aircraft.
Some college experience and flight knowledge is preferred for a dispatcher position. The salary range is from $20,000 to $38,000 a year.
Airline Mechanics
Airline mechanics maintain and service all aircraft owned by the airline. They repair, service, and inspect planes for airlines, private corporations, and the military.
A thorough knowledge and understanding of all aircraft engines and systems is required to be an airline mechanic. Specialized training is necessary to receive an aircraft mechanic's license. At technical and aircraft schools, one- and two-year programs are offered in aircraft mechanics. The salary range is from $25,000 to $48,000 a year.
Air Traffic Controllers
Air traffic controllers ensure the safety of each flight. They make sure that planes don't collide when they take off, fly, or land. Air traffic controllers coordinate and track flights within a certain area on radar screens. This job can be stressful because of the huge responsibility of ensuring the safety of others.
To be an air traffic controller, college experience and specialized training are required. This is a job within the federal government. It is on civil service listings, which means that you must take an exam offered by the government to apply. If interested, go to the nearest civil service agency to register for a civil service test. Salaries start at between $30,000 and $46,000 a year.
Radio Operators
Radio operators operate, maintain, and repair radios on aircraft and at terminals. A high school diploma is required to become a radio operator. Specialized training in electronics or radio repair is preferred. Most jobs require employees to pass special FAA licensing exams. The best way to begin this career is to look for specialized training schools in radio repair or electronics. The salary range is from $25,000 to $35,000 a year.
Questions to Ask Yourself
1) What type of airline position interests you? Why?
2) How can you prepare yourself for an airline career?
3) How can you find out what airline jobs might be available in your area?  
Image Source: Freepik.com